Flood Management
Drainage Problems In and Around Kolkata Metropolis and their Disposal
The Metropolis of Kolkata is already more than 300 years old. "Chance erected, chance directed", as described by Rudyard Kipling, the city of Kolkata had been facing its acute drainage problems since its very birth burgeoning over three marshy and obscure hamlets since 1690. Kolkata lies on the left bank of river Hooghly about 130 kms. upstream of its confluence with the Bay of Bengal. The bank of the river has developed as a natural levee and the general slope of the land is eastwards from the river bank. Initially, the drainage of this city had been effected against the general slope i.e. westwards through the now defunct creek which ran from Salt Lake (now reclaimed) in the east to Hooghly river at Princep Ghat on the west. Later on, excavation of Maratha Ditch (present Circular Road), which circumscribed the city in 1742 rang the death knell of the creek. River Bidyadhari has since then served as an outlet for the drainage of the city for a long period from 1856 to 1928.

The earliest drainage cum navigation was taken up by Major Tolly who submitted a proposal to use the bed of the almost dead channel of Adi Ganga as a private venture, excavated the channel named after him as Tolly Nullah which was opened in 1777. The total stretch of 17 miles (27.2 kms) used to outfall into Bidyadhari at Samukpota or Tardaport. Excavation of Circular Canal from Entally to Hooghly river was done in 1820 while construction of Chitpur Lock was completed in 1833. Subsequently, canalisation of Bhangor Khal was taken up in 1897-98 and excavation of Keshtapur Khal in 1910, a navigation channel, connecting Kolkata with Nona-Gong-KultiGung .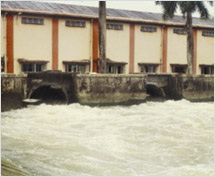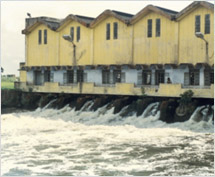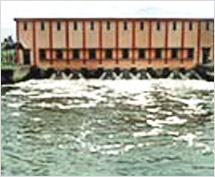 With the deterioration of Yamuna, the Bidyadhari lost much of its upland flood water supply and could not survive and was finally abandoned by the Govt. in 1928. Finally, Dr. B N De, an eminent Engineer of Calcutta Corporation came up with his new famous "Kulti Outfall Scheme". Apart from augmenting the capacity of drainage channels, installation of extra pumps and sedimentation tanks, an important step had been taken to take the drainage by long-lead channels towards east and south-east to the Kultigong outfall which is connected with the live Raimangal estuary. The outfall scheme consists of execution of two parallel channels from Bantala to Kulti (17 miles / 27 kms) to carry storm water and dry weather flow of the city separately.

The city of Kolkata and its adjoining metropolitan areas are thus drained by a network of drainage channels excavated, handed over and maintained over years by the Irrigation & Waterways Department. Around 1970, a number of new channels were excavated in the areas adjoining the main city where people started to live after the partition of Bengal by the fund available from the Calcutta Metropolitan Development Authority (CMDA). Subsequently, in absence of adequate maintenance fund, increasing encroachments on the canal banks and their slopes, extension of human settlement in the low lying areas in fringe areas of the city, aggravated the drainage congestion not only in the city core area but the Greater Metropolitan District also. Apart from the drainage channels a number of pumping houses located at Uttarbhag, Chowbhaga, Keorapukur in South 24-Parganas district are rendering great service towards removal of drainage congestion in their respective areas. Particulars of pumps and their capacities under Irrigation & Waterways Directorate are as below :
| | | | | |
| --- | --- | --- | --- | --- |
| Sl. No. | Name of Pumping Station | No. of Pumps | Capacity each in (cusecs) | Motor Capacity (HP) |
| 1 | Uttarbhag | 4 | 250 | 630 |
| 2 | Additional Uttarbhag | 5 | 50 | 170 |
| 3 | Chowbhaga | 9 | 50 | 100 |
| 4 | Additional Chowbhaga | 10 | 50 | 135 |
| 5 | 2nd Additional Chowbhaga | 10 | 50 | 120 |
| 6 | Keorapukur | 4 | 50 | 100 |
Pumping Stations
Location of different Pumping Stations for Kolkata Drainage System along with Installed Capacity in Cusec / Litre per Sec.
| | | |
| --- | --- | --- |
| No. | Pumping Station Under I & W Department | Installed Capacity in Cusec |
| 22 | Keorapukur Pumping Station | 200 |
| 17 | Chowbhaga Old Pumping Station | 450 |
| 18 | Additional Chowbhaga Pumping Station | 500 |
| 19 | 2nd Add. Chowbhaga Pumping Station | 500 |
| 26 | Uttarbhag | 1000 |
| 27 | Additional Uttarbhag | 250 |
| No. | Main Pumping Station of C.M.C. | Installed Capacity in Cusec |
| 16 | Ballygunge DRG Pumping Station | 1233 |
| 11 | Palmar Bazar Pumping Station | 1184 |
| 09 | Dhapa Lock Pumping Station | 480 |
| No. | Intermediate & Small Pumping Stations of C.M.C | Installed Capacity in Cusec |
| 15 | Topsia Pumping Station | 65 |
| 20 | Jodhpur Park Pumping Station | 20.64 |
| 21 | Chetla Lock Pumping Station | 24 |
| 24 | Mominpur Pumping Station | 142 |
| 23 | Nimak Mahal Pumping Station | 12 |
| 14 | Kulia Tangra Pumping Station | 40 |
| 12 | Pagladanga Pumping Station | 48 |
| 07 | Maniktala Syphon Pumping Station | 24 |
| 06 | Ultadanga New Pumping Station | 440 |
| 05 | Ultadanga Old Pumping Station | 28 |
| 04 | Belgachia Pumping Station | 8.01 |
| 01 | Birpara Pumping Station | 50 |
| 08 | Manicktala Pumping Station | 97 |
| No. | Pumping Station Under P.H.E | Installed Capacity in Cusec |
| 03 | Duttabagan Pumping Station | 48 |
| 02 | Laketown Pumping Station | 23.77 |
| 10 | Kashipur Dum Dum Drainage Pumping Station | 156 |
| No. | Pumping Station Under C.M.W.S.A | Installed Capacity in Cusec |
| 13 | Chingrighata Pumping Station | 100 |
| No. | Pumping Station Under C.M.D.A | Installed Capacity in Cusec |
| 25 | Baranagar Noapara Pumping Station | 300 |